The Spherion business models
Spherion offers professional IT staffing services in core business districts of select metro markets. Spherion Professional owners focus on specialized staffing and recruiting for a variety of roles within information technology, and finance and accounting. Backed by Spherion's proven business model and the resources of the world's largest workforce solutions company, our Professional franchisees enjoy higher margins on talent contracts and a more stable candidate roster. Your territory will be based on BLS statistics showing at least $50M of contract payroll, offering great potential for long-term, stable profitability. Spherion Professional offices are usually located in class A office space.

Learn more about the Spherion Professional model

Spherion's general staffing model is available in many mid-sized cities and towns as well as some more rural areas. As a Spherion commercial owner, you'll primarily support light industrial and administrative positions and, in some markets, Professional staffing and recruiting as well. Commercial market geographies are typically defined by counties, either a single county or multiple counties. Spherion general staffing office locations are most commonly located in a strip-type shopping center that is anchored by a landmark like a grocery store or bank. The general staffing model always starts with one office, however you might have the opportunity to open multiple offices to provide full coverage of your assigned territory. 

Learn more about the Spherion general staffing model
Our Franchising Accolades
We're proud to hold several top ranking positions with industry groups for our values and safety standards, including the designation of Major Contender among U.S. Contingent Workforce (Staffing) providers with Everest Group.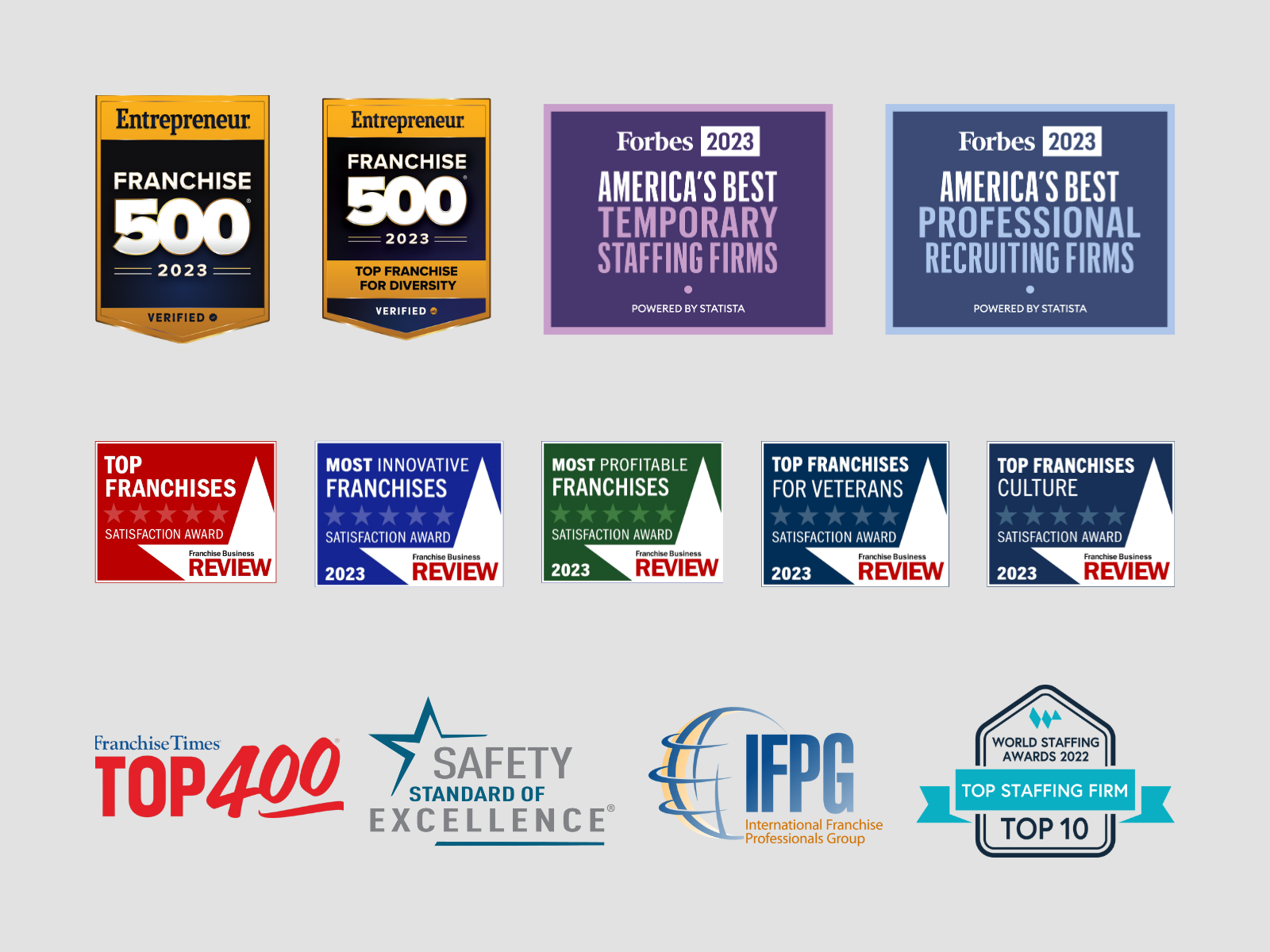 *This data is based on 60 franchisees that were open and operating for at least one full year as of 12/31/22. 15 of the 60 franchisees (25%) surpassed the average annual sales stated above. Your individual results may differ. There is no assurance that other franchisees will earn as much. Please review Item 19 of our May 1, 2023 FDD for more information.
This website and the franchise sales information on this website do not constitute an offer to sell a franchise. The offer of a franchise can only be made through the delivery of a franchise disclosure document. Certain states require that we register the franchise disclosure document in those states. The communications on this website are not directed by us to the residents of any of those states. Moreover, we will not offer or sell franchises in those states until we have registered the franchise (or obtained an applicable exemption from registration) and delivered the franchise disclosure document to the prospective franchisee in compliance with applicable law.
Spherion's recognition comes from the following organizations:
Meet Our Team
When you're ready to start your franchising journey with Spherion, text, call, or email our experienced franchise development team.

Bill Tasillo
Vice President of Franchise Sales & Market Development
Certified as a franchise executive by the International Franchise Association, Bill brings a hands-on coaching style to his passion for helping new and seasoned franchisees grow their careers with Spherion.

Dan Brunell
Regional Vice President of Franchise Development
Dan's background as a senior executive in the staffing industry and founder of a top franchise brokerage equips him with more than 30 years of experience helping prospective franchisees succeed.